World-soccer star Toni Kroos and top German streamer Elias Nerlich set to launch The Icon League–and challenge Kings League and Baller League
The Icon League is slated to kick off in Summer of 2024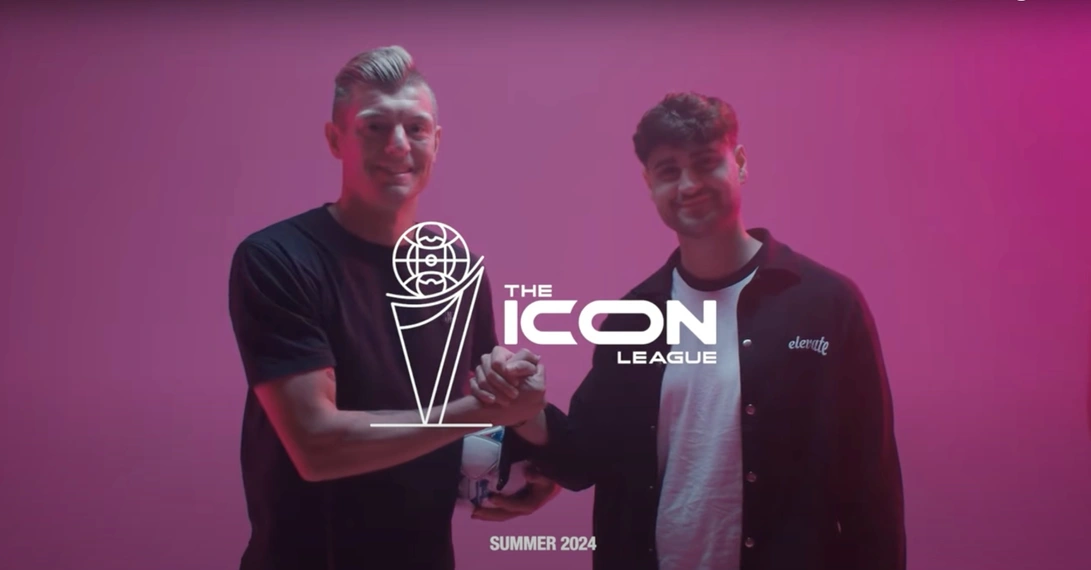 Streamers and soccer—it's an en vogue combination that's gained even more traction since the successful launch of the Kings League in early 2023. Various players, current and former, are joining forces to develop their own interpretation of a small-sided soccer league with a built-in entertainment factor. Competiton has heated up behind the scenes in the battle for the most influential streamers. In "The Icon League," streaming star Elias Nerlich and professional footballer Toni Kroos now look to outpace the competition. Today, OMR takes a closer look at the project.
On Monday evening, Elias Nerlich and Toni Kroos let the cat out of the bag: the two are teaming up to launch "The Icon League" in the summer of 2024, a small-sided soccer league aiming to clearly differentiate itself from traditional professional soccer. 
"The lineup is sick.
"There are a large number of fans who are also keen for a different soccer format. For a faster, more varied, more action-packed, more eventful game, in which there can suddenly be unforeseen twists and turns, i.e. more goals and more entertainment. And that's exactly what we will offer," says Toni Kroos.
According to Kroos, "many well-known names from the soccer scene, the entertainment sector and the music industry have already committed to join The Icon League." "In the coming weeks and months, we will reveal who we have already been able to win over for our league. The lineup is sick," said Elias Nerlich, without being specific.
Two Sides on baord
While specifics of the format have not yet been finalized, OMR research has revealed who is involved behind the scenes of The Icon League, with the following three entities joining forces for a yet-to-be-founded independent company: 
Two Sides –

founder and CEO Lucas Teuchner's Berlin-based record label and artist management company is home to successful hip-hop artists such as Apache 207, Bausa and Reezy, among others.

360 Media –

a spin-off agency from Sports360, associated with Toni Kroos' agent Volker Struth.

Rabona –

 the sports, creator and event management agency is part of Switzerland's 1337 Holding, which also includes Stark Esports, Fokus Clan and the Rush.gg platform.
The publication of Kroos' and Nerlich's plans generated a lot of attention overnight, and the video plugging the launch has already been viewed well over 200,000 times on YouTube, while the Instagram reel has reached 4.3 million views. The Icon League's Instagram account, which has not yet been updated, already has 75,000 followers. And the number of Toni Kroos' 43.3 million followers on the platform alone indicates enormous growth potential.
Eligella Cups with Trymacs et al.
Rabona has a special place in the construct of The Icon League, as the Rabona network includes more than 20 e-athletes, such as FIFA 19 world champion 'MoAuba,' and content creators, like 'Amar', who have a combined reach of more than ten million followers across Instagram, Twitch, Twitter and YouTube.
Elias Nerlich, who also organizes and produces the extremely successful Eligella Cups with Rabona, is one of them. The "Real Life Eligella Cup III" took place in early September in the Mercedes-Benz Arena in Berlin, which was sold out with 16,000 spectators.
Divided into eight teams, 56 creators competed against each other in soccer matches at the Real Life Eligella Cup in the German capital. The captains of the teams were some of the Fatherland's streamers with the highest reach, including unsympathischTV (2.8 million subscribers on YouTube), Trymacs (2.3 million) and ViscaBarca (1.8 million).
Kings League sets its sights on Germany
With his Eligella events, Elias Nerlich has already shown that live soccer formats with streamers work online and offline and strike a chord with (young) people—unlike any of his streamer peers. At the same time, the envisaged format for The Icon League inevitably brings back memories of the similarly oriented Kings League of Spanish ex-football star Gerard Piqué.
The Kings League got off to an extremely successful start in Spain at the beginning of 2023 and has already announced plans for global expansion. "We want to internationalize the Kings League in 2024. We are looking for markets that fulfill two conditions: They must have a strong soccer tradition, but also a strong tradition in the world of streaming," CEO Oriol Querol recently told OMR. And it is reported that the Kings League is planning a scenario with eight to ten national competitions, which in turn will lead to an international competition at certain points.
Piqué & Co. clearly also have their sights set on Germany. However, it is not yet clear when and how they'll enter the market. Various market participants told OMR that a possible launch of the Kings League in Germany could be delayed until 2025. The reason for this is the prioritization of other markets. For example, the creators around Querol and Piqué are currently working on a Kings League for Brazil, with Brazilian soccer legend Ronaldinho and current superstar Neymar to take on key roles as presidents.
Baller League to launch with Hummels and Podolski as presidents
In Germany, however, The Icon League is preceded by a different league. At the end of July, OMR exclusively revealed the plans for the Baller League, in which the two German professionals Mats Hummels and Lukas Podolski will serve as presidents.
The Baller League is also an indoor, small-sided league, with matches to be played over several weeks in the winter months in an airplane hangar near Cologne. Ambitious amateurs and semi-professionals will be involved. The sporting level is to be guaranteed by a draft system for which talented footballers from the entire DACH region can apply from the fall. The Baller League is scheduled to kick off on January 8, 2024.
In addition to the prominent figures Hummel and Podolski, there are two co-founders behind the Baller League: one of them is Felix Starck, co-founder of the production company Koryphäen Film. Thomas de Buhr, an experienced media manager, is also on board. Among other things, de Buhr brings business experience from well-known professional stations to the venture. In the past, he was a Director at Google for more than five years and then Managing Director of Twitter Germany (now: X) from 2014 to 2018. Most recently, de Buhr was responsible for the German business of the sports streaming platform Dazn until 2022.
The Baller League's communications budget is handled by the Serviceplan Group. The Hamburg-based sports marketing agency Sportfive and its joint venture Dravt, founded with DOJO, provide support in sponsorship and activation matters. Just last week, the Baller League scored a marketing success with Xing making its investment in the mid-seven-figure range public and announcing itself as primary partner.
Nerlich: "They called me and wanted me to join their leagues"
Despite this competition, Nerlich and Kroos from The Icon League are bullish about their prospects. "Many people want to do what we're planning. Some of them approached me, but I'm much more excited about creating something of my own with Toni and the strong team behind us," says Elias Nerlich. He continues: "They called me or wrote to me and wanted me to join their leagues. But by then my mind was already made up: my own league. Created according to the ideas and concepts of Toni Kroos and me. Our league. The Icon League."
Rabona managing director Marc Goroll also told OMR that an "extensive agreement" together with the Kings League and/or the Baller League would have been "desirable." However, it was clearly not possible to reach an agreement on this in the background. "The competition is certainly tough and we have the necessary respect for the job at hand. At the same time, we are 100 percent sure that we are building the best product on the market - and that we will prevail with quality in the end," says Goroll.
In this very fluid situation, it is easy to imagine that there is a lot going on in the background - and has already been in the past few weeks. After all, both the Baller League and The Icon League are fighting for the favor of (ex-)professional footballers, celebrities and well-known German streamers. The good news for consumers: The two new soccer formats offer maximum excitement even before kick-off.