"I am trying to find the 1 person in 1000 who doesn't just like, but loves what I'm doing."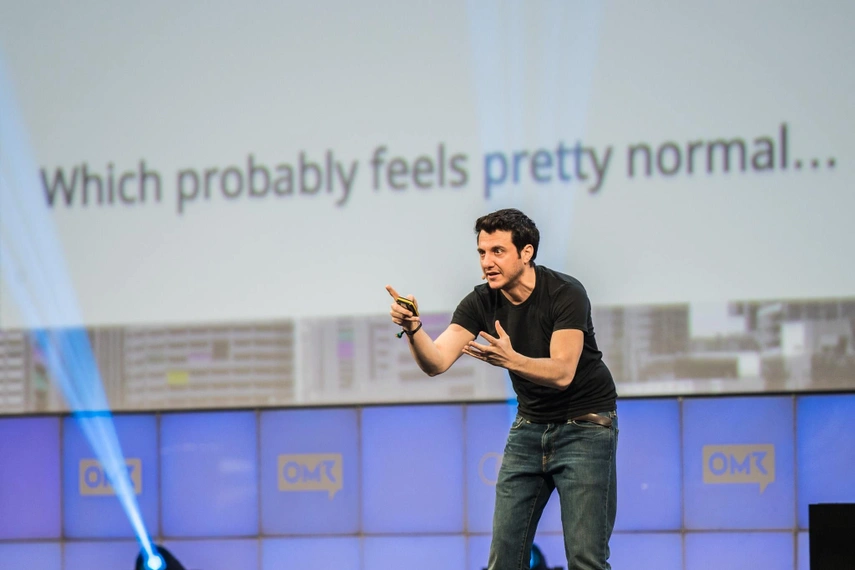 Tim Urban feeling normal at OMR18 in Hamburg, March 2018
When it comes to publishing, Tim Urban is an outlier, employing a business model that flies in the face of conventional practice. He doesn't adhere to any set post frequency, forgoes titles designed to generate clicks and not only shuns short, snackable content, but almost exclusively publishes long-form articles. What's also unconventional: while many an online publisher has seen a nearly catastrophic drop in readers, Wait, but Why is thriving. During the OMR Festival in March 2018, Tim Urban dropped by the OMR Podcast to talk shop with OMR Editor-in Chief Roland Eisenbrand.
Finding ways of connecting creativity with business
Tim Urban never set out to become a publisher; he was interested in doing something expressive. To pay the bills, however, he and a business partner started an educational tech company, but he was not satisfied. "I was sad. I was writing and playing music on the side, but I really wanted to be doing something creative full time." It was around this time that he began to gain some traction with his blogging and came to the realization that "we can start this content website for free and it wont cost anything because I'll just do everything." The merging of creative expression with a viable business model had begun.
Check out Tim Urban's keynote from OMR18.

Quality as a growth lever
When Urban began posting regularly, he adhered to commonplace practices, listicles, click-baity titles and a set schedule of positing on Tuesdays and Thursdays. In fact, he "didn't expect at the time that the posts would get serious or would talk about technology or get really long." He was interested in further developing his voice and continued approaching the blog as an outlet for creative expression. But when he saw that articles he spent more time on had more resonance, he gained the confidence to drill down on topics that his crowd were interested in. "The internet allows you to find your exact crowd. If one person in 1000 is interested in what you're saying, that's a 7 million person audience."  
Audience building and Elon Musk
One of those 1 in a 1000, just happened to be one-of-a-kind real-life super hero Elon Musk. If Urban wasn't absolutely flabbergasted when Musk retweeted parts 1 and 2 of his article on artificial intelligence, he was when one of Musk's assistants reached out to discuss the possibility of working together on projects of mutual interest—even if Urban himself was no expert. "What I learned form my AI post was that people would rather read my post than that by a real expert. Elon didn't want someone who was an expert—he wanted someone to excite smart people about the topic. And it was the perfect match in that regard."  
To hear what else Tim Urban had to say about working with Elon Musk and why he refused to take money from him, as well as Urban's thoughts on leveraging quality into traffic, how he branched out into the realm of public speaking and why he never felt an overwhelming pressure to monetize, check out the latest episode of the OMR Podcast.
OMR Podcast with Wait, but Why founder Tim Urban at a glance:
Who he is, how did he make his breakthrough? (2:00)

The very first post Urban published and why it struck a chord with readers? (03:48)

Before starting "Wait, but Why" what was Tim Urban doing? (06:07)

Where did Tim Urban begin writing in a professional capacity and how did that experience benefit him with Wait, but Why? (08:01)

How did Urban launch "Wait, but Why" and how did it perform initially? (09:07)

Tim Urban on the build-up to Wait, but Why going viral and how he missed it all (10:20)

How did Tim Urban go about building his audience, what were the levers for achieving growth? (12:58)

When did Tim Urban realize that he really had something with Wait, but Why? (15:58)

When did Tim Urban shift away from shorter posts to his now hallmark long-form posts? (18:07)

Why did he change his post frequency? (19:47)

What went into his decision to bucking the "snackable content" trend and publish really long articles? (21:15)

When did he start feeling the pressure to monetize? (23:30)

Where did he start generating revenue and what were the challenges for generating revenue for Wait, but Why? (25:45)

What is the breakdown of his revenue sources and how have they evolved? (29:29)

Wait, but Why has a very famous fan: how did the connection to Elon Musk come about? (31:50)

Why did Tim Urban feel like he was able to write about topics he was not an expert on? (33:10)

What was the experience of working with Elon Musk like? (34:57)

Why wasn't Tim Urban compensated for the "Elon Musk" posts? (36:16)

How does Elon Musk's public persona compare to how he is in private? (37:50)

When did he become an in-demand speaker and what can he offer? (39:24)

Why does Tim Urban feel that the business model he used to grow Wait, but Why could still work today? (41:38)
Be sure to leave us a like and subscribe to our Soundcloud channel.