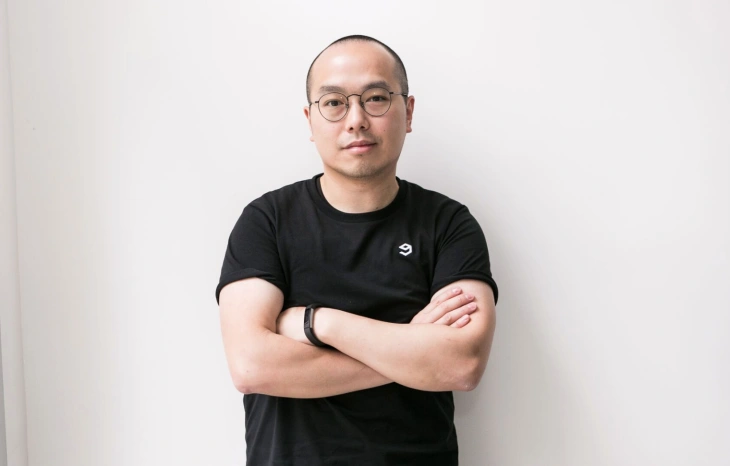 Ray Chan, founder 9GAG
"We thought it was useless," says Ray Chan, "so we kept working on other projects—but all of the others failed—except 9GAG." That's how 9GAG CEO and co-founder Ray Chan remembers the early days at 9GAG. "We just wanted to really be able to find funny pictures," he says. In this episode of the OMR Podcast, Ray Chan sits down with Heidi Stamer to candidly discuss 9GAG's story, it's strategy for the present and its outlook for the future. 
"Wanna play basketball professionally, you have to play in the NBA"
Some success stories start off as a joke. "The problem we were trying to solve at the time was: how do we find funny pictures? That's why we started the website, so people could find and share funny pictures. That was the whole idea in the beginning." Initially, at least, it was purely a labor of love, "just a side project for us," Ray recalls. But one by one, all the other projects failed, while 9GAG had the last laugh. 
Since 2012, 9GAG has been Ray's primary project. But sequeing from side project to full-time gig takes vision, financing and connections. So they did what seemingly every start-up does, they relocated to Silicon Valley. They joined US accelerators 500 Startups in 2011 and Y Combinator in 2012, connected with other startups and collected capital from investors. The way Ray sees it "starting a company is like playing basketball—if you want to play basketball professionally, you should play in the NBA. The NBA for tech companies is Silicon Valley." 
"We were are really lazy."
Despite cutting their proverbial teeth in the Valley, Ray Chan and the 9GAG crew eventually moved back to Hong Kong. It wasn't just the desire to start something back home that ended up winning out over the risk associated with running a tech company in Hong Kong at the time. "We were just lazy. We didn't want to handle all the logistics of moving to the US. People have been talking about globalization for 20 years, so why couldn't we start a big company in Hong Kong?"
We are like the Uber of content creators
9GAG has always stood out not only as the go-to address on the web for funny images and content, but for its unique content model, which is more akin to a platform for creators than creation platform. "We are the Uber among creative agencies. "We don't have any creators, and yet we have all of them. Our thinking was very simple and pretty counter-intuitive: there are tons of talented creative people out there—why would we want to become yet another creator. Why not help people find their audience and reach more people?" On a daily basis, Ray says that the amount of content that reaches an audience depends on the platform. "Some platforms are just more frequently used. Like Instagram, people check their Instagram all the time, so we can update more frequently and share more posts on Instagram."
Maybe Germans do have a sense of humor?
What's especially interesting to learn is that after the US, Germany is the second-largest audience for 9GAG—despite its reputation as a very serious, humor averse culture. "People always ask me (how Germany can be second behind the US)." To that frequently asked question, Ray Chan has a very simple answer: it transcends language and the humor taps into a global sense of humor. "The thing is most of our content is pretty lightweight, without a lot of words. Language is not really a big problem for us." As far as the globalized nature of humor on 9GAG is concerned, Ray says that because the audience skews very young, "they all have the same kind of problems: exams, schools, parents, how to get rid of your boyfriend. These kinds of problems are global."
And on Germany specifically, Ray says: "For a country that loves beer as much as Germany, it's impossible that they aren't funny."
OMR Podcast with 9GAG CEO and founder Ray Chan at a glance:
On the genesis of 9GAG and what the company is: (1:00)

On the factors that compel him to write and what he hopes to achieve with his writing: (1:58)

What factors played a role in 9GAG becoming the priority and why did it join forces with Y Combinator? (2:25)

Learnings from working with such a legendary group like Y Combinator: (3:41) 

What went into the decision to move back to Hong Kong? (5:18)


On difficulties as a Hong Kong-based company locating talented programmers and other talented individuals: (6:01)

On current company reach figures: (7:34)

On the 9GAG business model and strategy: (8:27)

On the struggles facing publishers regarding sourcing traffic on social media platforms: (9:36)

What funnels are in place to catch users directly after they have been in touch? (11:10)

On 9GAG's unique content model: (12:06)

On in-house content gatekeepers and average figures regarding posted content per day/week (13:35)

On the audience dynamics, and why the language barrier is not an issue for 9GAG: (15:02)

On further break downs of the target audience for segmentation purposes: (16:32)

What are some learnings from 9GAG's success on social that he could give others: (19:07)

On 9GAG's monetization model: (21:22)

On any misgivings that brands have because the 9GAG's audience is so large and diffuse? (24:51)

On possible plans to expand to other formats: (25:47)

On the fleetingness of popularity: (29:29)

On the size of 9GAG's creator base: (30:45)

On why despite being located in Hong Kong 9GAG is not active in China: (31:29)

On if 9GAG will ever expand to China? (33:14)

On what business he would start, if he started one today? (34:15)

On if Ray Chan still sees his future at 9GAG or if he'll entertain serious offers? (36:41)
Be sure to leave us a like and subscribe to our Soundcloud and Spotify channels.