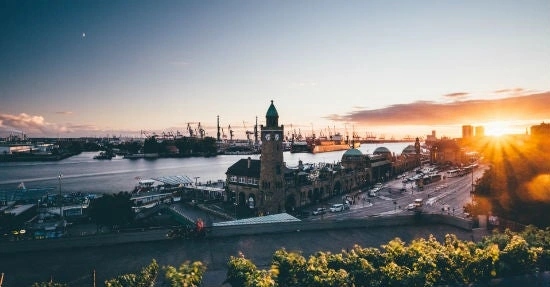 The world-famous Hamburg Harbor
On March 22 & 23, over 40,000 marketing aficionados will be descending upon the Northern German Port City of Hamburg for the OMR Festival 2018. To make sure you get the absolute most out of your time in the beautiful Hanse City, here's our list of things to do to get the most out of your trip to Hamburg.

Hamburg Exhibition Center: The Place-To-Be for the marketing industry
Yeah, ok. An exhibition center doesn't really belong on any top-10 lists—but we're starting here where you all will be: OMR18 at Hamburg Exhibition Center (Hamburg Messe). Pretty much our hallowed grounds, OMR18 will be the third OMR Festival held in the exhibition center—and the first taking up 6 halls. To get all 40K of you inside as quickly as possible, we've got two separate entrances set up for you Entrance North (Eingang Nord) and Entrance West (Eingang West). This part goes without saying, but just to be sure: you need a ticket to enter.
Where? Hamburg Exhibition Center, Entrance North (address: Messeplatz 1) & Entrance West (address: Lagerstraße 16)
The Elbstrand beach right across from Europe's third largest port
Fine, we admit it, Hamburg's weather forecast in late March is hardly swimming weather—even hard-nosed dock workers won't be taking the plunge into the water. Nevertheless, a visit to the Elbstrand beach is a must for ever visitor to Hamburg. A walk along the shoreline in Oevelgönne, sipping on a beer or an Alsterwasser (shandy) in the legendary Strandperle while watching the massive containerships drift passt—here you can truly sense the spirit of Hamburg as the "Gate to the World."
Where? Strandperle, Oevelgönne 60
Riverside, Landungsbrücken, Old Elbtunnel
What else is must in Hamburg? A trip down to the riverside around Landungsbrücken in St. Pauli. Expand your horizons in floating museums aboard the Cap San Diego and the Rickmer Rickmers, fuel up on the quintessential Hamburg snack Fischbrötchen (fish sandwiches) or hop aboard a harbor tour and explore the harbor as it was meant to be see—from the water! Take a stroll across the Old Elbtunnel to the other side of the Elbe for a fantastic view of Hamburg—you won't be disappointed!
Where? Alter Elbtunnel, St. Pauli-Landungsbrücken 
Elbphilharmonie: The concert hall on the Elbe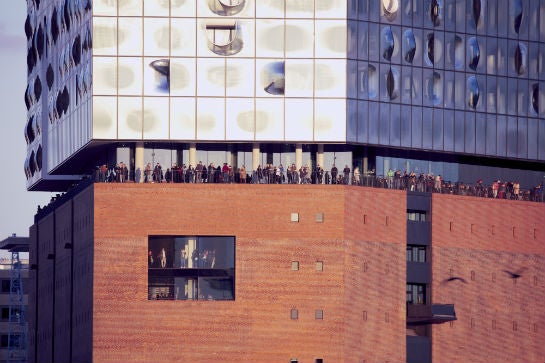 It's impossible to miss on the Hamburg skyline: the Elphi. And while it is certainly a sight to behold from afar, it's even more impressive from up-close. The 110 meter (330 ft) tall concert house first opened its doors in January 2017 drawing hoards of concert-goers from around the world. Even if you don't have tickets to a show before or after OMR Festival, a visit to the plaza and the observation deck gives you an incredible panorama.
Where? Elbphilharmonie, (address: Platz der Deutschen Einheit 1)
Hamburg only Unesco World Heritage Site: Speicherstadt, Kontorhausviertel and Chilehaus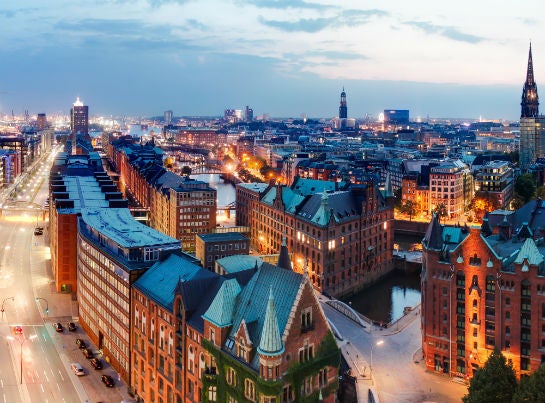 No trip to Hamburg is complete without a visit to Speicherstadt—the world's largest maritime warehouse district. Originally built in the 1880s, its characteristic brick facades along intertwining canals are a mainstay on every harbor trip and was named a Unesco World Heritage Site in July 2015.
Where? Chilehaus, Fischertwiete 2
Karoviertel: The hip, former bohemian neighborhood near St. Pauli
Right between St. Pauli and Schanze, lies Karoviertel an eclectic mix of cafes, boutique shops, bars, restaurants and all sorts of specialty shops. Alternative, colorful and completely devoid of big-name chains, the neighborhood exudes charm and beckons for a stroll. Our recommendation: Korean barbecue and karaoke at Man-Nam.
Where? Man-Nam, (address: Karolinenstraße 1) 
Alster Lake——the heart of the Hanseatic City
For many, when they think of the Alster they associate it with the Binnenalster (Inner Alster) and its myriad of shops in downtown Hamburg. But the Alster, more specifically the Outer Alster, has so much more to offer—an outdoor wonderland for joggers, walkers and anyone looking for a quiet break from the loud din of the city. The roughly 7 KM (4 MI) trek around the water offers several cafes and restaurants, parks and eye-catching architecture, including the US Consulate.
Where? Outer Alster (address: Alsterufer 27/28)
OMR City Night: More than 40 bars, clubs and restaurants
Just because the Live Concerts will draw to a close on March 23, doesn't mean OMR Festival 2018 is history. Meet up with your brand new contacts and close out Festival week in style amidst the one-of-a-kind nightlife that Hamburg has to offer. To make sure that all you non-Hamburgians find your way around, we teamed up with Thomas Henry under the name OMR City Night to present 40+ bars, clubs and restaurants that are the perfect locations to keep the party going.
Discover Hamburg on the cheap: Hamburg Card
If you really want to get the most out of Hamburg, we can't recommend getting a Hamburg Card highly enough. For a few Euros you'll not only be able to move all around Hamburg, but you'll also get exclusive discounts on 150 different city tours, museum tickets, restaurants, attractions, musicals and more.