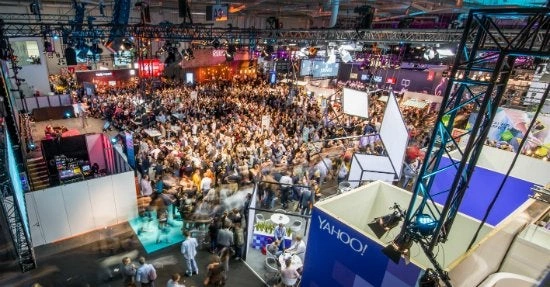 OMR Festival 2018
Generate leads without having your back against the wall
In the past couple of weeks, we've had a considerable increase in potential exhibitors interested in presenting their products and services at OMR Festival 2018. While many of the spots have already been booked for this March 22 and 23 in Hamburg, our sales colleagues would still love to get you on board as an exhibitor. We are thrilled with the resonance that the upcoming Festival has generated and we genuinely appreciate the trust you place in us. For OMR18 were aiming for 40,000 attendees—and these companies are already on board.

Last year, 25,000 made the trek to Hamburg in March. For 2018, we've expanded the Festival to 65,000 square meters, six halls and two full Expo days to ensure the perfect setting for our 300 exhibitors to showcase their goods. No matter if it's our premium partners, like Adobe and Audi, or young, up and coming companies, we're committed to finding a solution that works for everyone—and are ready to develop additional ideas that go beyond the booth.
That could be you at #OMR18
If you want to be a part of OMR18, there are a variety of options available:
Premium Booth:

At OMR18, you'll find the biggest exhibitor stands in the premium area in Hall A4, just like last year. If you book a premium stand, you can customize it to really stand out. Furthermore, our team of experts is available to assist our Premium Exhibitors. Hall A4 is solely for Premium Exhibitors, save for the "Big Picture Stage."

Expo Stand:

Our smaller, prefab stands are now located in Hall A3—a much larger area in 2018 than in years past. After all the positive feedback from partners and visitors, we decided to keep both Expo halls open on Thursday and Friday, thus giving you twice as much time to gather leads.

Masterclasses:

Every year, our Masterclasses seem to sell out in a flash (Pre-registration for attendees opens in 2018). This year, we've upped the ante and are now offering 120 Masterclasses for OMR18. It's a perfect setting to present your product in detail in a 90-minute deep dive.

Side Events:

Be it breakfast, SEO lunch or an evening pub crawl, we can help you find the right Side Event during OMR18 for your and your target group. We'll even help you out with choosing the location, finding speakers, setting it up and with promotion.

Guided Tours:

Well-known industry insiders show attendees around the Expo and will make a stop at your booth. Each tour is tailored to the specific needs of the target group to guarantee that you get in touch with the right guests.

Expo Stages:

It's an OMR Festival first: TWO EXPO STAGES! With the "Big Picture Stage" and "Deep Dive Stage" were making sure that there's plenty of free content and insights available for Expo attendees unable to attend the Conference keynotes. The "Big Picture Stage" will deal with strategic aspects of wide-ranging marketing topics like influencer marketing, video, adtech, eCommerce, while the "Deep Dive Stage" will feature speakers tackling one topic in greater detail and providing actionable strategies.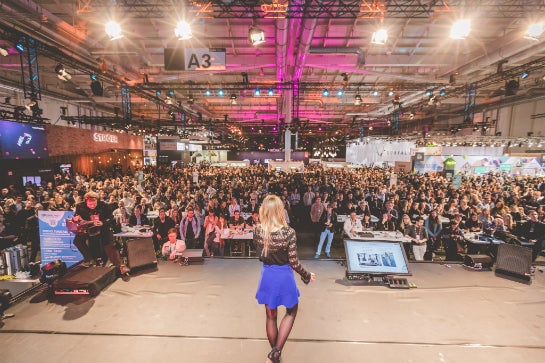 Look who's ready to roll in Hamburg
We are thrilled to welcome back many partners to OMR18. Take a look at the following list to see who's ready rock Hamburg this March!. Showcase your company at OMR18!
a+s DialogGroup

Ad Pepper Media

AdDefend

Adference

Adform

ADITION technologies

adjust

Advanced Store

affilinet

Audi

Bazaarvoice

Brandwatch

censhare

Channable

Channel Pilot Solutions

ConversionBoosting

Cooper Advertising

CrossEngage

D.C. Media Networks

eology

esome advertising technologies

etracker

eyeo

Facebook

Facelift

Feierabend Online Dienste

Finch

fischerAppelt

FS eCommerce / Convertizer

FUTURE CANDY

Google

Hootsuite

Hubert Burda Media

Inxmail

Kameleoon

KOMMERZ

Lead Spot Media

Ligatus

Linkfluence

LuckyShareman

Mailcommerce

Marin Software

matelso

matapeople

Netzpiloten

next media accelerator

Offerista Group

optilyz

Optimise IT

outbrain

Products Up

Proleagion

Quantcast

real.digital

red lemon media

Retresco

Ryte

Selligent

shopware

Smarketer

Smart Digital

Ströer

Tableau

Taboola

Talkwalker

Talon.One

Tchibo

The Digitale

Trusted Shops

upljft

VE Interactive

Visual IQ, a Nielsen company

web-netz

webcookies

Wieners + Wieners

Wonderlandmovies

Yext

Yieldkit

zenloop

and many more…
Would you like to be at OMR Festival 2018 with your company? Then drop a line to our colleagues from the business development team. They'll be glad to find a solution that best meets your needs. Get in touch now.