"Our decisions led to distasteful content and produced toxic mixes," Ex-Google ads SVP Sridhar Ramaswamy in the OMR Podcast.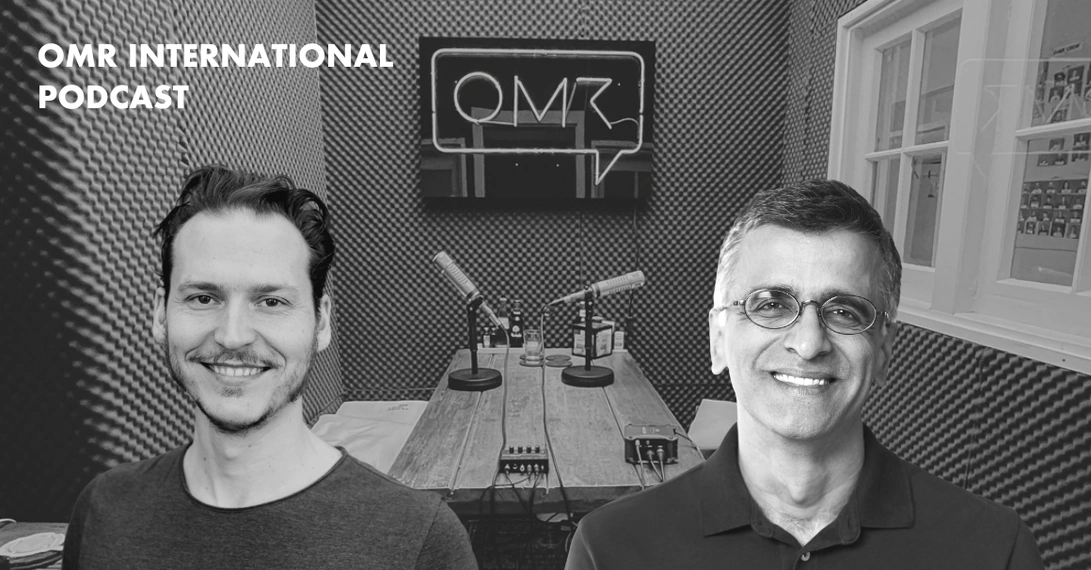 In less than a decade, Sridhar Ramaswamy went from Google grunt to Senior VP of Ads and Commerce. After a decade and a half at Google, Sridhar decided he'd had enough with data-driven search and that the sector was in need for disruption. Enter Neeva, a privacy-focussed, user-centric and subscription-based search engine. Funded in part by Greylock Partners, Neeva has raised over USD 100m—despite the seemingly long odds of outperforming Sridhar's former employer. In this episode of the OMR Podcast International with Scott Peterson, Sridhar spoke about the genesis for Neeva and how search without search history works, while also engaging in an at-length discussion about Sridhar's time as an exec at one of the Big Four.
The trapping allure of free
"It was a very broad and sprawling role involving a USD 100b business and a 10,000-person team," recalls Sridhar Ramaswamy of what job as Senior VP of Advertising and Commerce at Google entailed, the scale and dimensions of which are simply staggering. What's also truly remarkable is that Sridhar was "the guy" tasked with building up ads at Google, i.e. the department that made ALL the money. Under his aegis, Google's ad division grew and grew, from beginnings where Yahoo was the top search engine, to an annual revenue today of USD 60 billion in the US alone—just on search ads. But that success came at a substantial cost to users and privacy.
While he looks back fondly of his time at Google, calling it "an amazing journey," he saw how "the enormous benefits of scale were being monopolized by a few in Silicon Valley" to the detriment of users. "The advertising model first trapped people into free products and then slowly, but surely cranked up the ad load on them, so that much of the benefits of scale went to companies, to the creators of the software." He went on to say that the effects of this monopolization have exacerbated the current social disparities in the US and beyond, shutting off so many from the benefits that technology creates.
A toxic mix leads to a paradigm shift
As a high-ranking executive at Google, Sridhar was a member of the absolute inner sanctum, and as such was involved in discussions that ultimately benefitted the aforementioned select few. "It is one of my toughest learnings in life. A series of small, seemingly ok decisions can still lead to something that you are honestly just not proud of." Sridhar came to realize that he was one of the people responsible for decisions that ultimately led to the creation of non-stop ads, a surveillance-based advertising network and tons of dubious content on YouTube. "[It was] distasteful and this reliance on growth at all costs and advertising was really producing toxic mixes."
Confronting with the cost for Google's success, Sridhar changed course. First joining venture capital firm Greylock (who is the primary investor in Neeva) and then going all-in on his about face from Google by founding a privacy-focussed, user-centric search engine in Neeva in 2019. "We (Sridhar and his co-founder Vivek Raghunathan – author's note) quickly became incredibly excited by what would be possible with a focus solely on the user—After 20, 25 years of the Internet and search engines, we felt that it was time for a dramatically different point of view." Investors seem to agree, as Neeva has raised USD 80m in funding across two separate rounds, acquiring investments from esteemed VC firms Greylock and Sequoia.
The bigger, the better
The focus of Neeva is not on monetizing or ads (it generates revenue solely through subscriptions), but rather on getting users the information they need—which per sé leads us to the delicate balancing act of utility and privacy. In Sridhar's eyes, it's all about user empowerment and transparency. "You are in charge. All default choices are going to be clear an obvious. We don't keep any search history. The search query itself is a very strong indicator of what you are looking for."
The bet for Sridhar and Neeva is that by focussing on the user, only the user and nothing but the user, they will be able to retain the spirit of innovation prevalent in the early days at Mountain View. "We live in this strange world where products like Google and Amazon are actively getting worse—it's impossible to tell what is an ad and what is not," says Sridhar. "The aim for Neeva is to keep growth and performance in lock-step with one another […] to create a wonderful product that captures a lot of the early magic of Google."
Check out the full episode of the OMR Podcast International with Neeva founder and CEO Sridhar Ramaswamy for more on privacy versus utility, his time at Google and what success for a (currently) small fish like Neeva is when competing with Google.