57K for a digital trading card? The soaring NSFW prices of NFTs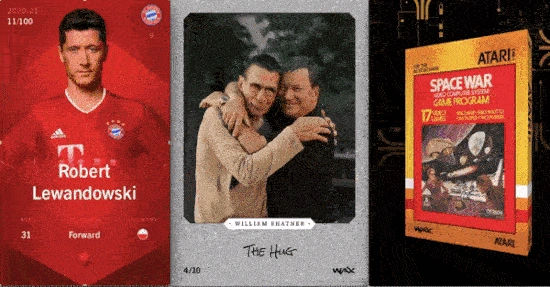 Non-Fungible Tokens, aka NFT. Behind the cumbersome term lies the technology based on the Etherium blockchain that transforms digital objects into unique and 100% counterfeit-proof collector's items. What was once merely a wee realm for geeks, avant-garde artists and obsessive collectors, NFT-based games and trading cards are now one of the fastest-growing sectors of the "internets". Today, OMR is taking a closer look at why people are ponying up a pretty penny for a virtual Formula 1 track, why toy collectors are all about the NFTs and why one of the world's biggest, most storied and richest soccer clubs is partnering up with a two-year-old start-up on a licensing deal?
The anonymous big boss
Mr. Karrupu is dubbed "The Big Boss" in a Sorare Telegram group. The game on Sorare is fantasy soccer; players put together fictive teams based on trading cards of actual professional soccer players. As is the case with all card sets, there are your run-of-the-mill cards and those of the exceedingly rare variety, some of which are sold to the highest bidder. The rarer a digital card is, the higher the price it commands. Mr. Karrupu's reputation as a Big Boss has been earned through cash. Time and time again over the past few months, he has consistently outbid other bidders in auctions. In total, Mr. Karrupu has acquired some 850 trading cards, including several "Super Rare" and "Unique." Such cards are only produced either 10 times or just once per season respectively.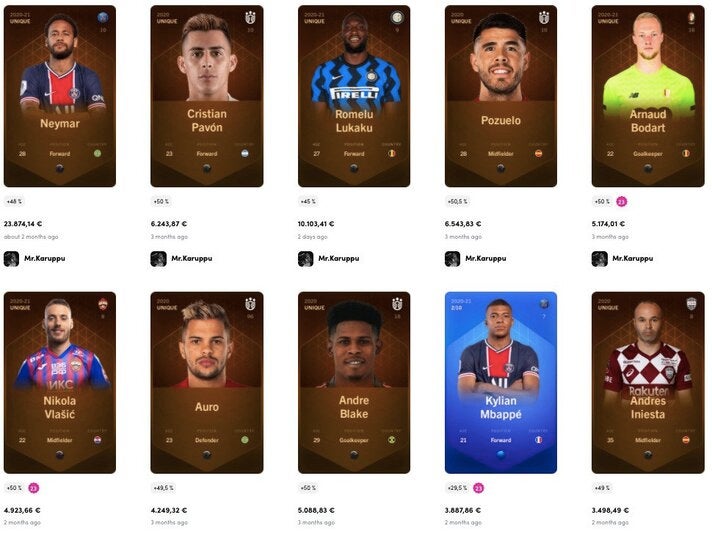 His most valuable Unique card is of Brazilian superstar Neymar, which Mr. Karrupu (not his real name) in October for 74.4 ether. At the conversion rate at the time of the acquisition, Neymar cost Mr. Karrupu EUR 24,000. A record at the time, which has since been broken by Neymar's real-life teammate at Paris Saint-Germain, French wunderkind Kylian Mbappé, who was acquired for EUR 57,000.
On Sorare, there are divergent budgets at play. Those of the regular players, who put their teams together modestly, occasionally splurging on a card here or there for a few euro bucks. That is if they're lucky enough to land one, given that players like Mr. Karrupu have an endless supply of means to field a team of unbeatable mercenaries. But players like Mr. Karuppu and his ilk are not motivated by the pursuit of victory, but by value growth.
Million dollar fund for prized NFTs
Mr. Karrupu is in fact one of the most active NFT collectors. According to a valuation of his portfolio, Mr. Karuppu is identical to MetaKovan, the name of a crypto investor. Beyond a tech background, years of activity in the sector and an apparent plethora of money to burn, little is known about MetaKovan. He has been broadening his NFT portfolio since 2017 with acquisitions ranging from digital works of art, property in virtual worlds, a fleet of digital racing cars; his portfolio is now worth over USD 4m. His collection of Sorare trading cards, which are now worth several hundred thousand dollars, were not counted in his portfolio valuation.
In early December, MetaKovan was behind a deal that caused waves across the entire NFT scene. In a bidding war for a 5% share of the F1 Monaco Circuit in the NFT game F1 Delta Time, he pushed the price past EUR 180,000. Among the losing bidders was Tony G, Australian/Lithuanian poker pro, businessman, politician and blockchain enthusiast Antanas Guoga. A couple of days later, he made a successful bid on a bullet car for his "Super Fast" racing team for EUR 64,000.
The Poker Pro and his virtual racing team
"I am making a large investment into this field," Tony G told OMR in a chat. "I really think it has a huge future." That would then also apply to Animoca Brands, the company behind F1 Delta Time, in which Tony G has also invested money. In 2017, Animoca Brands launched Crypto Kitties, a game in which players breed and sell cats. After someone paid a purr'dy penny for one digital kitty (EUR 100,000), Crypto Kitties became one of the first blockchain-based games to garner widespread attention.
There is good reason that Tony G refers to his F1 racing team as an investment. The goal of F1 Drive Time is not just about besting other drivers on the virtual racing circuit. Within the game, there are numerous places where the game's cryptocurrency Revv changes hands: for car parts, starting fees for time trials and victory purses are paid in Revvs. Beginning next season, track owners will also receive a revenue share when racers use their tracks, meaning people like MetaKovan are set to make money from their NFTs.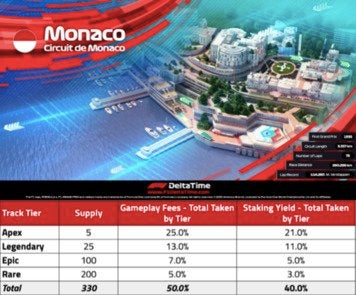 It's easy to be overwhelmed by the myriad of explanations in the FAQs, Telegram chats and discord servers on just how blockchains and gaming work in concert. What's worth noting here about NFTs, they differentiate from fungible, i.e. interchangable tokens, like Bitcoin, in that NFTs are unique, cannot be destroyed and can be traded on specialized platforms like Open Sea and Super Rare. Simply put, the authenticity, value and owner of a given NFT can be guaranteed and precisely tracked thanks to the blockchain. Objects can be trading cards, works of art a piece of property in a virtual world, a pair of sneakers that only exist online or a crypto cat for EUR 300,000.
Back to F1 Drive Time. The game has yet to be released entirely and as such it is up in the air if it will attract enough players to deliver a tangible ROI for people like MetaKovan and Tony G. 2021 on the whole will be a telling year regarding NFTs and whether or not they increase or decrease in value—a fact not lost upon MetaKovan. In a recent podcast, he spoke about investing USD 110,000 in a digital F1 car tricked out with diamonds: "Either the game is going to be a hit, or it will be the dumbest purchase of my life."
50% growth every month
In Sorare there is a shining example of what can happen when an NFT game becomes a hit. After launching in late 2019 from France, there are now 10,000 active players, says Sorare founder Nicolas Julia. Driving the company's current growth of up to 50% every month are the various license deals with top European clubs. Depending on their stature and reach, each deal can deliver between 300 and 3000 new users.
Recently, Sorare was able to acquire a host of licenses to some of the biggest soccer clubs in the world including, Paris Saint-Germain, Juventus, Atlético and Bayern Munich. The goals are lofty for the French startup: Julia has set his sights on striking exclusive licenses with every club in the world's top 20 leagues by the end of 2021.
In summer 2018, Julia and his co-founder Adrien Montfort discovered NFTs—and their potential to create limited digital objects. Julia says they were immediately fascinated. As a kid he used to collect panini cards, before as an adult and a football enthusiast, [he] played fantasy football games such as MonPetitGazon (the French soccer manager game). "With Sorare, I'm mixing both for adults. Most users playing and collecting on Sorare have a similar story to mine."
After initially being enraptured by the possibilities of digital trading cards, the founders decided to transform this "new class of collectibles into a compelling global fantasy football game. That way, we could engage fans over the years. Through the collecting and gaming aspect of these cards." The focus, Julia says, is on those two aspects and not the blockchain technology at the heart. In fact, he says that their goal is to blur the blockchain aspect as much as possible, while "keeping its unique

characteristics: scarcity, authenticity, transparency, provenance," says Julia.
That's because Sorare can really only grow if the game becomes popular beyond crypto nerds, who continue to make up the bulk of the users. "We started rolling out our beta in March 2019 to an invite-only community," he says. The biggest jump in user growth followed nine months later, when they launched open beta in December 2019 and announced the first officially licensed clubs. The new clubs led to "sudden, unprecedented growth. We thought we were onto something [beforehand], [that] was a validation of our idea."
As blockchain technology enables every trade to be tracked and has given rise to a platform tasked with performing such a task, Sorare's performance can be quantified: 104 clubs and 3148 soccer players are covered by the various license deals with the French company. A total of 93,308 trading cards have been issued, roughly 10% of which are "super rare" and some 801 cards "unique." In November alone, Sorare trading cards worth a total of EUR 1.2m were bought and sold; putting the average price at a shade north of EUR 88.
Bayern's on board
When you consider that many of the sport's biggest names and clubs are yet to be included, that number figures to increase further. Thanks to the initial returns with the AAA clubs, Sorare should be able to attract the next wave of cornerstone clubs. "Signing FC Bayern Munich is opening many new doors in Germany and in the world," says Julia.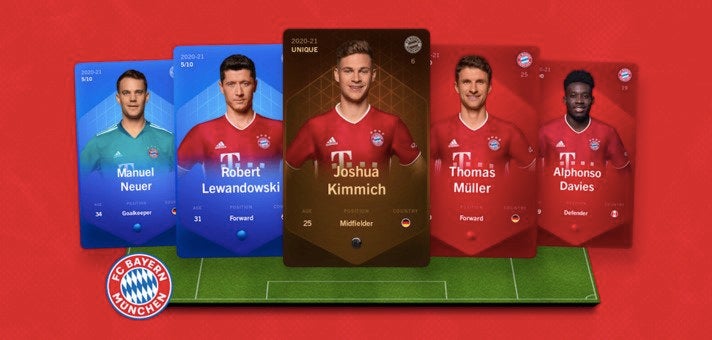 Just how long the path was to the present for the Sorare founders becomes evident when you speak to the other side of the deal. Bayern Munich's Head of Customer Care and Digital Licencing Media Benjamin Steen emphasized that they are no "first mover." "We were influenced not only by the overall prospects of the concept, but also by the fact that a host of other top clubs were already partners with Sorare. That was certainly an indicator for a professional and promising platform," says Steen.
Another factor that ended up being decisive is one that gels with Julia's core vision. "In the end, we were simply convinced by the Sorare product," says Steen, "that the digital trading cards weren't simply bought, sold and traded, but also that they were integrated into a soccer manager game."
Digital cards beget real revenues for top clubs
After succeeding in landing at least one top club from each of the five major European soccer leagues, Julia is bullish on the future: "Building a presence in Sorare offers clubs and  leagues an exposure to Sorare's global and growing audience and a new revenue stream." Steen shares his view and sees a beneficial marketing effect for the club, referring to it as a "win-win situation that will help the overall product reach various target groups.
https://omr.com/de/wp-content/uploads/2020/12/Gold.gif
Julia is mum on just how lucrative this source is and could be. "We sign licensing agreements just like EA Sports, Panini or Sports Interactive. We pay a licensing fee each year to the clubs or leagues and for every club and league, there's a specific negotiation that depends on the size and popularity of the club and league." That would seem to indicate that, just as in F1 Delta Time, NFTs enable Clubs receive a cut of cards used in the game or a commission when they trade hands. Steen also declined to provide specifics. "We signed a confidentiality agreement regarding the details of the deal and of course intend to honor that," Steen said.
Captain Kirk lives long and prospers from the blockchain
Competitor Wax provides more transparency. In addition to being a trading card publisher, Wax is an infrastructure service provider, whose goal it is to simplify trading NFTs. While Wax also declined to provide exact figures on its deals, they have stated that they charged an 8% commission for all trades conducted on the secondary market, which is split evenly between the marketplace operator, the publisher and the right's owner.
The potential for a continuous stream of income was possibly a deciding argument for one William Shatner to grab his old photo album from the attic. In June, Wax published a limited edition series of Wax trading cards featuring Shatner, who first gained international acclaim as Captain Kirk in the seminal sci-fi series "Star Trek." The cards feature never-before-published images, including the moment Shatner learned of the birth of his daughter and one of Shatner giving his Star Trek sidekick Leonard Nimoy a heartfelt embrace.
Soldout in less than ten minutes
Wax disseminated roughly 125,000 digital photos plus a brief comment from Shatner himself in 10,000 packs. They were soldout in fewer than ten minutes. Wax was obviously thrilled by the success of the Shatner series, but also by the fact it proved that their hunch was correct: "Many of the buyers were middle-aged women—not exactly the typical audience for blockchain topics," says Arielle Brechisci, content manager at Wax.

According to Crunchbase Wax has received roughly USD 42min financial backing. At the helm of Wax are team of blockchain vets who previously operated a marketplace for digital game items. Now they are hoping to replicate their prior success by establishing a universal marketplace for NFTs plus a platform for trading digital objects that is easy enough to use for not only geeks, but also soccer moms with a thang for Captain Kirk. "Mainstream clients are not interested in dealing with things like wallets or public and private keys," says Brechisci. That's why Wax lets users set up an account in two clicks, and also permits log in via Facebook or Google.
In addition to the easy-to-use infrastructure, content will go a long ways to determining if Wax is able to push NFTs into the mainstream. The majority of content at present, from special edition cards of moving Atari cartridges to "Blockchain Heroes," which is now in its second series, is steeped in nerd appeal. but the overall strategy is aimed at the mainstream.

On December 12, Wax is launching a card series featuring DJ Deadmau5, while additional upcoming sets include "Street Fighter" and one with a major US toy manufacturer that will drop shortly before Christmas. Brechisci was unable to provide anything further on the Xmas partnership other than it has a massive fan base that as yet has had zero touchpoints with anything blockchain-related.
Gaming giants lurking about
The deals are united in the fact that for each, Wax sought a partner for a target group that they had yet to address. Then all of the communication and promotion takes place on the partner's channels; new users are then redirected to Wax, cards are then placed in the shop via drop and then all parties involved earn a commission on each ensuing trade. 
"At the moment, we are the King of NFTs," says Brechisci. The kingdom that Wax hopes to rule continues to grow. "The volume of traded virtual items from computer games, i.e. digital objects like "World of Warcraft" axes and "Fortnite" skins, totals over USD 100b," says Brechisci. "We expect to exceed that."